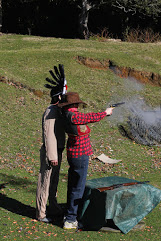 About Us
We are a small club based in Te Awamutu that has a common interest in firearms, and in particular pistols.
Rosetown Pistol Club is a registered Pistol club that is affiliated to Pistol New Zealand.
We hold regular club competitive pistol events where we can hone our skills in a controlled and competitive environment.
The club as 2 Range complexes:
Indoor range: In the Te Awamutu Small Bore building in Factory Road.
Outdoor range: This is our range complex where we are certified for Pistols up to 50cal and rifles up to 8mm.
---
Club Disciplines
Speed Steel (Speed Challenge) This discipline is all about shooting fixed steel targets set out on a range in as fast a time as possible.
Pistols used here range from .22 semi-automatics to heavier calibre semi-automatics as well as revolvers.
I.S.S.F This is precision type shooting, at 25 or 50m. We utilise a format of I.S.S.F at the indoor range, at a 25m distance using .22 pistols.
IPSC (International Practical Shooting Confederation) This is practical shooting that emulates real world environments. It involves shooting on the move and requires the shooter to shoot targets through doors, windows and around objects / walls.
Pistols used are typically semi-automatic 9mm or 45ACP.
3-Gun or Multi-gun Similar to IPSC but the stages are also shot with rifles (semi auto) and shotgun (pump action or semi-auto). 3-gun is 3 separate stages involving a different firearm, where as Multi-gun is one stage with 2 or 3 firearms used.
Action (NRA) Action shooting is a discipline governed by the National Rifle Association (NRA).
Action shooting will appeal to those who enjoy shooting 9mm guns or larger with precision – honing their skills to a set format of stages that don't change.